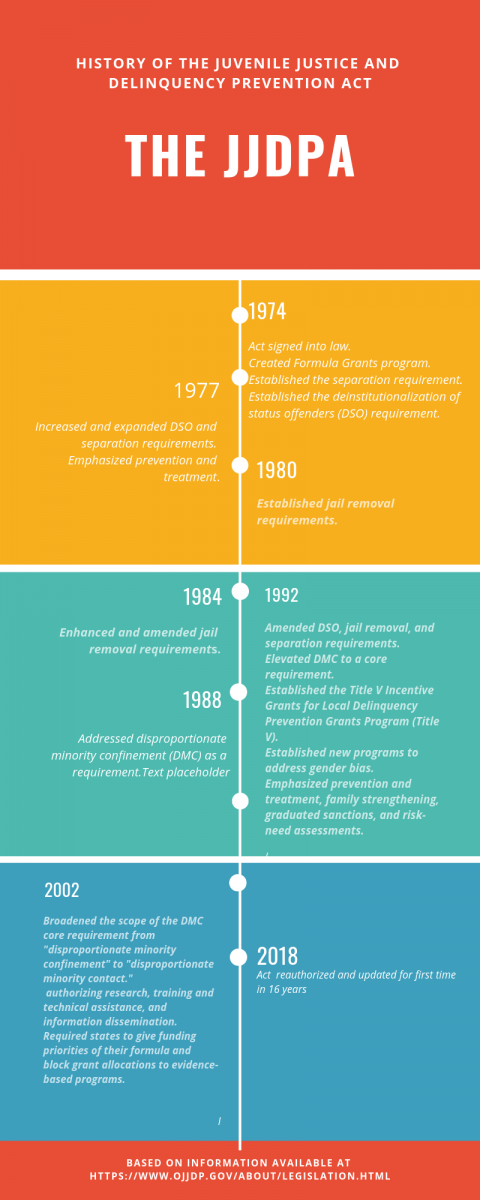 Signed into law by President Gerald Ford on September 7, 1974, and most recently reauthorized in 2018, the Juvenile Justice and Delinquency Prevention Act (JJDPA) embodies a partnershipbetween the federal government and the U.S. states, territories and the District of Columbia to protect children and youth in the justice system, to effectively address high-risk and delinquent behavior, and to improve community safety.  Reauthorization of the JJDPA took place in 2018 after more than 15 years of work on the part of advocates across the country. 
On April 5, 2017, Senator Chuck Grassley (R-IA) and Senator Sheldon Whitehouse (D-RI) reintroduced their bipartisan bill to reauthorize the JJDPA (S. 860). On April 4, 2017, a bipartisan House bill was introduced by Representative Jason Lewis (R-MN) and Education and the Workforce Committee Ranking Member Bobby Scott (D-VA). H.R. 1809, the Juvenile Justice Reform Act of 2017, is nearly identical to the Senate bill.  On May 23, 2017, the U.S. House of Representatives approved H.R. 1809 by a voice vote.
Both bills strengthen core protections for youth who come in contact with the juvenile justice system; promote the use of alternatives to incarceration; support the implementation of trauma-informed, evidence-based practices; call for the elimination of dangerous practices in confinement, including the use of restraints on pregnant girls; improve conditions and educational services for incarcerated youth; focus on the particular needs of special youth population such as trafficked youth and Tribal youth; and increase accountability. Compromise language known as H.R. 6964 was introduced and approved in December 2018. The legislation marks the first reauthorization of the Act in more than 15 years.